So yesterday me and my sister
http://make-itmake-up.blogspot.com/
took our brother shopping to give him a makeover! He's nearly 21 and his dress sense is not good, he wears lots of football shirts, wrestling and character tshirts! So yesterday we (when I say we, it was me who did most of the choosing!) took him to buy new clothes which was fun. But of course, I was in the city centre - I can't go there without a little trip in Selfridges. I went to the MAC counter but to be honest I have lost my love for them recently, there's nothing I really want (well maybe a few eyeshadows) but I just don't find the quality all that great. So we had a walk around, and ended up at NARS. The night before I went I couldn't sleep because I was trying to decide what I should buy (sad right?) as I blogged the other day I haven't been buying new make up as I need new clothes but I can't find much I like in the shops at the moment, so I had been thinking of buying NARS Orgasm blush.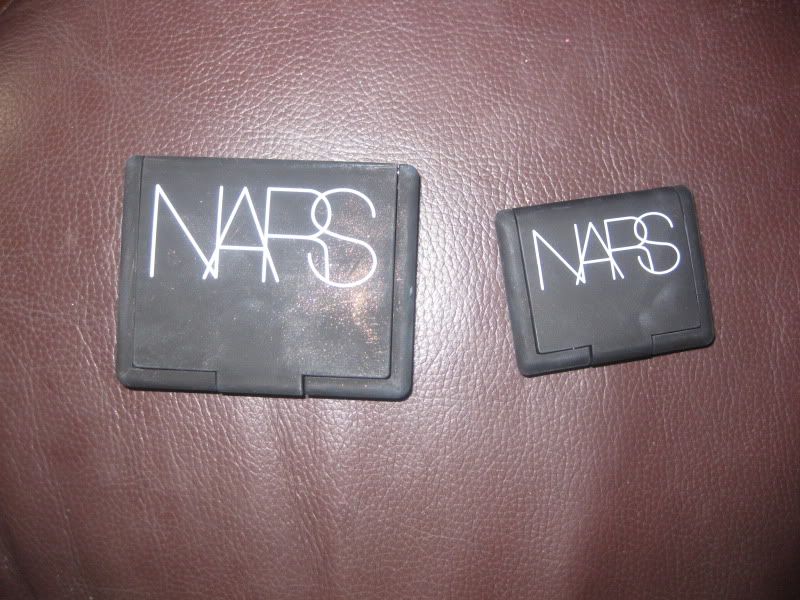 We went to the counter and as usual I was being very indecisive so the counter girl tried Orgasm, Super Orgasm and Deep Throat on me but I preffered Orgasm. So I got that and the Mekong eyeshadow which is just so so gorgeous I LOVE it!!
You can see from that swatch how beautiful and sparkly it is! I have come to accept now I am a neutral girl, I don't go for the bright eyeshadows I just like the browns and shimmery shades. I also went to Superdrug and bought the Sleek Ink Por eyeliner gel in glacier which is just white, I wanted it for a base for my eyeshadows. So today I applied the glacier over my lid, mekong all over the lid and blended up and out a bit, then I put a bit of gold on the inner quarter of my eye. It looks lovely "in real life" but I just can't get it to pick up on camera, it looks green!
But here is my FOTD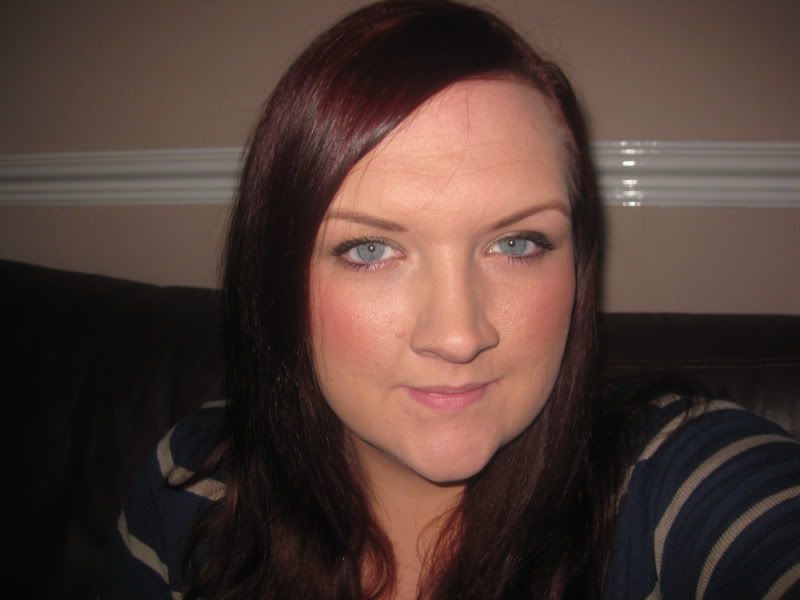 (Excuse the hair I haven't had chance to straighten it yet)
So I have on my usual foundation, MSF and my new NARS Orgasm blush (which I dropped!!! I really thought it would have smashed I felt sick!) with Mekong and the gold colour from the Sleek storm pallette on my eyes, white barry m liner on the waterline and Rimmel The Max mascara!
My sister bought 2 eyeshadows, a blue and a white I can't remember their name's but she has gone shopping again today so no doubt she will do a post on her blog later on, look out for that. We were both so excited and hyper after we'd bought them it was quite funny.