Last night I went out to celebrate my birthday with my husband, parents and my husband's brother and his wife! We went to an Indian Restaurant and had a lovely night!
Here is my make up from last night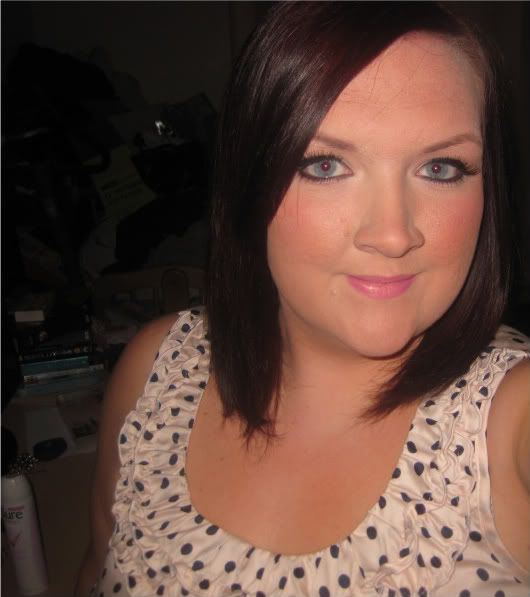 The products I used were
Face
Estee Lauder Face Primer Plus
Estee Lauder Double Wear foundation
Rimmel Bronzer
MAC Ripe Peach blush
Eyes
Barry M mettallic liquid liner with Urban Decay 24/7 Zero over the top of that, winged out.
Midnight Cowboy Rides Again eyeshadow all over
Estee Lauder mascara
Ardell Demi Wispies false lashes
Lips
MAC Vicorian Lipstick.
I wore this tunic which I got from Dorothy Perkins
I posted on Twitter yesterday and asked what make up I should wear with it, I knew it needed to be neautral which is what the girls said but I seem to have it in my head that a night out means I need a smokey eye. I just did thick winged eyeliner and I thought it looked really nice and it was a nice change so thank you those on Twitter for telling me!
I bought the Estee Lauder stuff yesterday and so far I love it and Debenhams were doing a free gift when you purchased 2 products so I got quite a good gift it had their skin care in with a lovely coral lipstick, an eyeshadow duo and a mini mascara. I felt quite old buying from them but I'm glad I did it!
I hope everyone has had a lovely weekend xx