I can't believe September is over! I didn't do a monthly favourites last month but I'm back into the swing of blogging now and I'm hoping I'll get more on track now.
Here's this months favourites...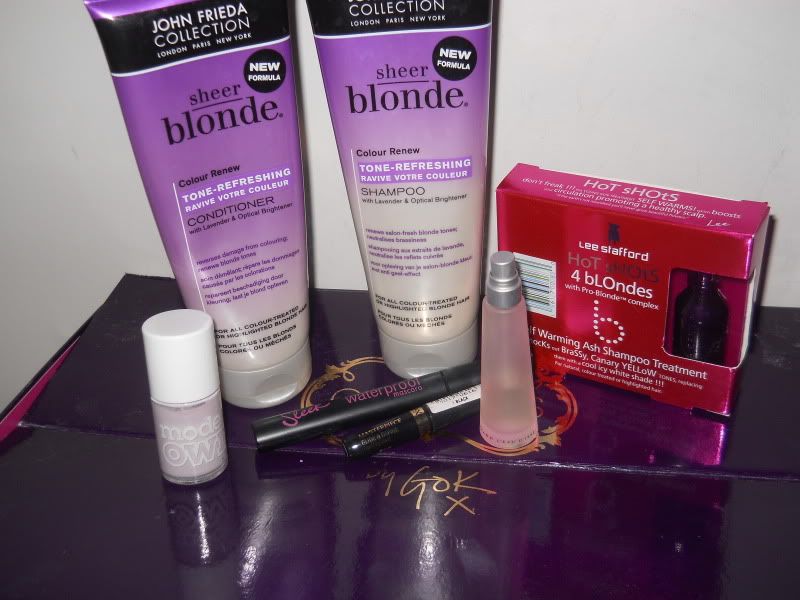 John Frieda Tone-Refreshing Shampoo & Conditioner - Since I've gone lighter I need to use this once or twice a week to try and tone down the orangeness in my hair. Because I had red hair before it does keep seeping though but this really helps, and works even better with my next favourite.
Lee Stafford Hot Shots 4 Blondes - These are pretty expensive at £6.99 for 3 little bottles but I only put it on the area where I have highlights which is just the top section of my hair so I manage to get 3 uses out of one little bottle and I try to do it once a week, sometimes I'll do it twice depending on the colour of my hair. I've just got back from Majorca and my hair was gone really light on top, I used this when I got home and its gone lighter. It definitely works and I really like it.
Models Own Utopia - I've been wearing this lots this month, its a pretty simple colour and it lasts really well as with all Models Own polishes.
Max Factor liquid liner - I was given this in the goodie bag from the Aussie Aussome Volume party I went to and I've used it a lot ever since. Its really easy to use and has great staying power.
Sleek waterproof mascara - I won this in a giveaway on Facebook and I love it! Its not very waterproof but it does give my lashes great length and volume.
Issey Miyake perfume - I used to wear this loads when I was younger and just haven't bought it since then, but my mum gave me this little bottle and I've rekindled my love for it! Its such a lovely scent and its one that my husband doesn't complain about!
Let me know what you've been loving this month.
x