So I went shopping this morning! Me and my husband are going out for our anniversary at weekend so I wanted something new to wear. There is nothing in the shops that I like at the moment, so I bought new shoes. I used to have a bad shoe habbit before Alice was born, but I went out nearly every weekend back then so I had a use for them. I have bought about 4 pairs of heels since she was born, one pair was my wedding shoes, and so I always wear the same pair when I go out. I like to wear jeans when I go out and I can't stand wearing a pair of shoes with jeans which just slip on and off my feet and then my jeans get caught in the shoe so I have to have some kind of strap to them, the pair I always wear are a parent peep toe court with a strap across the front and I've never seen anything I like as much as I like them. Until today, so I bought the shoes £25 from New Look aswell as the earrings which were £4. Then I headed to Boots for the 3 for 2 offer on the make up (I am loving this offer) and I bought Maybelline Colour Sensational lipstick in the infamous shade Ambre Rose, Rimmel The Max Volume Flash mascara, and my usual day to day foundation Lasting Finish.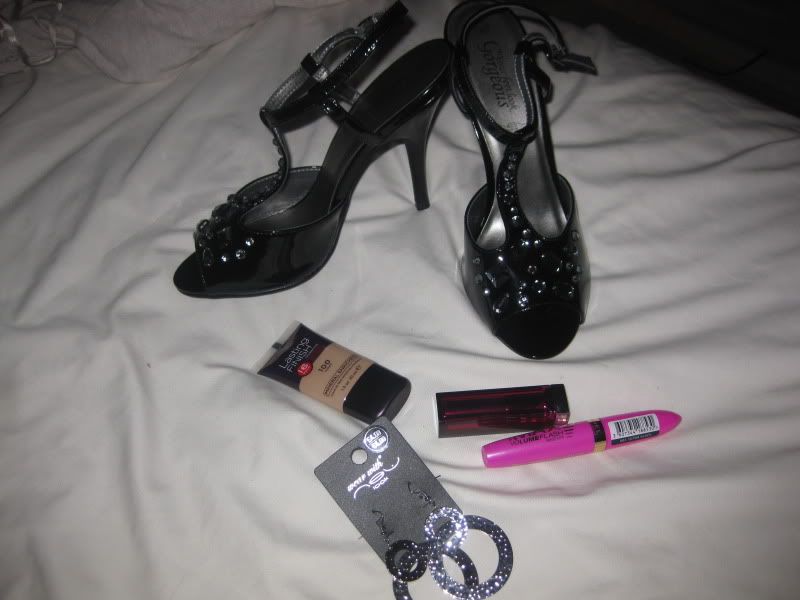 And I bought a new hair dye, I wanted to stick with the red but I wanted something more vibrant and something that would last as the Creme Casting Gloss just faded after not even a week! So I bought Loreal Ferria in Plum Power and this is how it turned out
Excuse all the mess in the background, it doesn't look as vibrant on the photo as it is in real life but I love it! And I am wearing Ambre Rose and my new mascara in the picture which so far I really like.
So newt tuesday is our first wedding anniversary :) This time last year I was in Florida!! Last night my dad told me to check Colin's emails and him and my mum had sent an email confirmation for a hotel they have booked for us on saturday night. We have just decided to have a fun evening and go bowling and then for dinner.