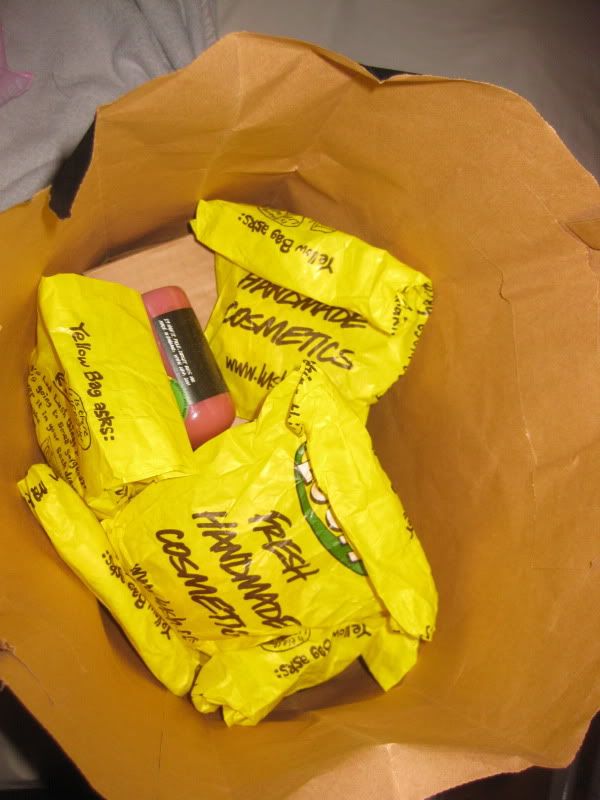 So many Bloggers are posting about Lush at the moment and I wanted to know what all the fuss was about. I have only been in Lush once but the smell was too much so I walked out. I was also under the impression that it was very expensive. At the moment if you spend £20 in Lush you get to pick a free Christmas gift set.
I got 2 bottles of Snow Fairy shower gel (one for my sister), 1 Baby Angel, Butterball, Creamy Candy, Star Bath Melt, Mr Butterball, Sex Bomb and Melting Marshmellow. And then I picked the Snow Fairy gift set, I didn't want a christmassy set with snow men and stuff so I went for this and I'm glad I did because I love the little glitterbug in there and I really love the smell of the shower gel I can't wait to use it in a bit. I also got a sample of the Big shampoo as I really want to try it out.
And I went to Superdrug, the 3 for 2 offer has been extended for a few more days so I got the Barry M lip gloss number 5 (the one that smells of bubblegum!), I needed a new bronzer as I think Alice has had my Prestige one and I can't find it anywhere! So I got the Rimmel Shimmering Maxi Bronzer and then I couldn't decide what else to get so thought I would give the Sleek Volume & Curl mascara a go and then I got a hair dye as I want to get rid of the red in my hair, I'm struggling with my make up and clothes with it so I bought spiced chocolate by Loreal Excell 10. Well I got to the till and the bronzer wasn't on 3 for 2 as it was classed as a tanning product! But it was on the Rimmel stand, I wasn't happy but Col was having a strop at how long Iwas taking and Alice was taking all the sweets off the stands at the tills so I just accepted it and left but I don't think that is right.

It was Alice's birthday yesterday she was 2 and she was given lots of money and vouchers so we went to buy her some new clothes today. We also got her these shoes, I know they have nothing to do with my blog but us girls are like magpie and these shoes from Sketchers are so sparkly and pretty I had to show you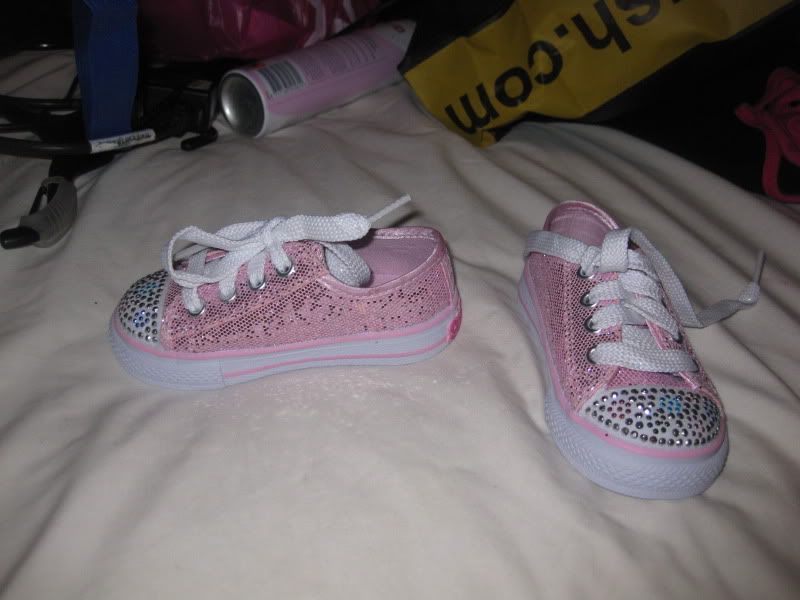 And thats it, my last shop and haul of 2009! Thank you to all my followers for reading my blog and following me I really appreciate it. I hope you all have a fantastic night what ever you're doing and I'll see you in 2010.
xxx