So I know a lot of bloggers have done this so I thought I would join in..
This is my husband Col (Colin)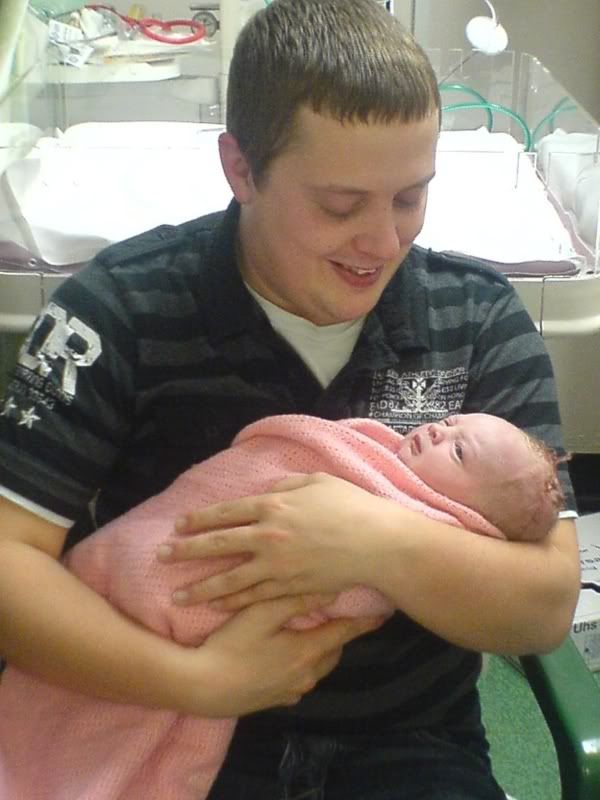 On what was the happiest day of his life. We have both agreed the day Alice was born was the best day of both out lives, better than our wedding day (so many people say its the best day of your life but just wait until you give birth honestly nothing can beat it) we both instantly fell in love with her.
I met Col in November 2002, I was 16 he was 21. We met in a club called Atomic on a saturday night, one of his friends introduced us after I'd tried shouting at Dave for something he'd done a few weeks before. We went out the next night to see 28 days later...the rest as they say is history. We haven't had an easy ride, we split up 2 times in our first year of being together - only for about a week at a time. And in 200 we had a break as we lived together and things were just getting on top of us both. But since we got past that things have been great, we got pregnant with Alice, I gave birth to Alice, we had all the trials and tribulations of having a newborn baby which brought us closer together, we got married last september. In february we lost a baby to an ruptured ectopic pregnancy which was very tough for us, I am a very emotional person and my way to deal with things is to cry and think about things too much. Col's is just to pretend it never happened.
Even so, I love him so much and really can't imagine life without him.