Its that time again! We only have one month of 2010 left, and this will be my last monthly favourites for 2010 as I'm planning something different for next month.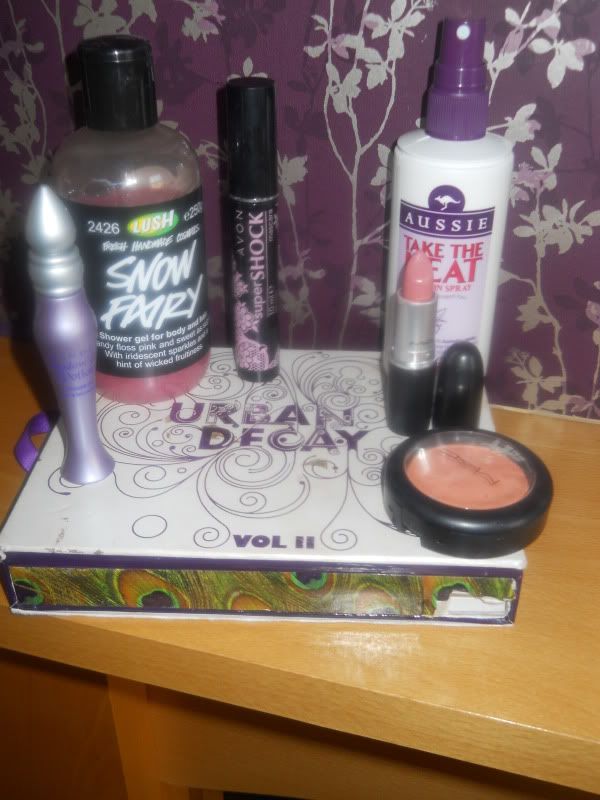 Urban Decay Primer Potion - I finally gave in and bought the full size. I'm glad I did as I really can't live without this stuff.
Lush Snow Fairy shower gel - I was so excited to buy more of this as I love the smell and I love using it. I'm going to go and buy another big bottle of it before the end of their Xmas range so it will be last me through the next year.
Avon Supershock mascara - My Sister in Law gave me this as she is a Avon Representative, I really like it! Makes me lashes look fuller and longer, I'll be doing a review soon.
Aussie Take The Heat spray - I was sent this from Aussie in October and I love it. I feel like it definitely makes me hair feel less "fried" when I've styled it with straighteners.
MAC Creme Cup lipstick - I chose this a Back 2 Mac freebie a few weeks ago and have been loving it. I can see me buying this over and over again.
MAC My Highland Honey blush - I've wrote a post on this so won't write much but I do still love it.
Urban Decay Book of Shadows II - I'm sure this has featured in many of my Monthly Favourites this year but I really do love this palette. Its got a good mix of shades so lots of different looks can be created with it.