I've never been able to find a cleanser that works really well with my skin type. When I was a teenager I had really bad acne, it cleared up a lot in my late teens but I do still suffer with the odd breakout. I have only ever used Dove soap on my face which is what I was told to use by the Dermatologist at the hospital that treated me for my teenage acne, which was always fine but now I'm nearing my mid twenties I figured I best start a skincare routine if I want to look after my skin. I'm still struggling to find a moisturiser that works well for my face but I have found my cleanser.
Alva Rhassoul mineral wash cream
" is intended for the deep cleansing of skin pores with volcanic mineral clay. Minerals, trace elements and naturally pure essential oils support the skin during washing in the fight against pimples, blackheads and excessively oily skin. Courtesy of Rhassoul lava clay's 55% silica content, this highly effective yet gentle cleansing cream is suitable for the whole body including the scalp, where it even prevents dandruff, reduces the inflammation and redness associated with psoriasis on the scalp"
I've only used this on my face so I can't comment on how it acts on the rest of the body. But, I've been really happy with this cleanser. My breakouts are less often, in fact I barely get any spots since Is started using this a month ago. The smell of it isn't too unpleasant, and the consistency is quite runny but with gentle "gritty bits". Depending on how my skin is I leave it on for 1 minute or wash it off straightaway. The only problem I have with this is the mess it leaves afterward I empty the bath or turn off the shower there is still lots of brown grit in the bottom of the bath. Not really a problem but worth mentioning.
This costs £10.50 for 150ml on the
My Pure website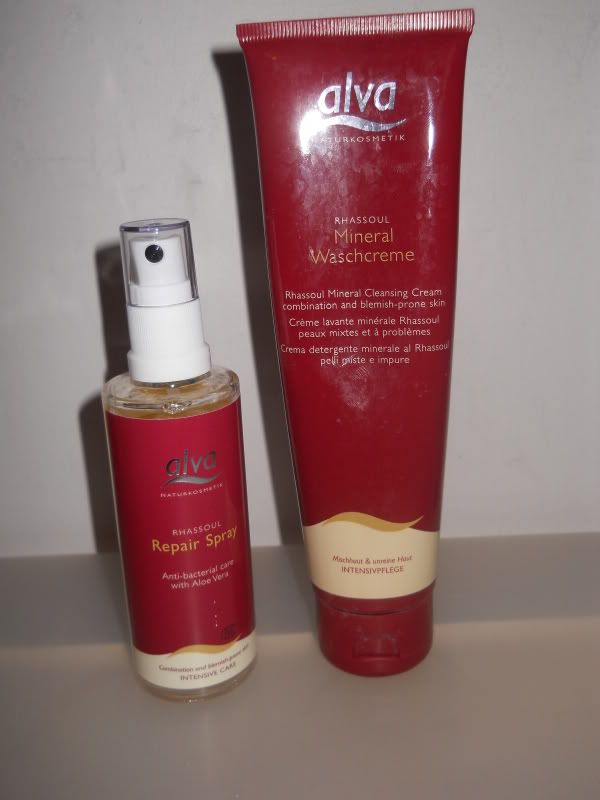 Alva Rhassoul Repair Spray
"Alva Rhassoul Repair Spray is an anti-bacterial repair spray formulated with tea tree and manuka oils and 90% aloe vera to combat spots and provide moisture and healing nutrients for irritated and problem skin. "
I haven't used this as much as the cleanser as obviously you only use this if you do get a spot and I haven't had many since getting it. However, I have a few under the skin spots which (shamefully) I have been trying to get rid (yes I mean squeezing!) of and have resulted in a little breakout around that area. I have used the Repair Spray a couple of times and it has really helped, they appeared yesterday morning, I used it in the morning, last night and this morning and they have gone down a lot. So I'm really impressed with this stuff. It smells pretty strong, but it does have Tea Tree oil in so that's understandable.
I think the next thing I'm going to try is the Rhassoul Balance cream to see if I can find the impossible - a moisturiser that works with my skin! So look out for that review next month.