Its that time again, where the heck has May gone? I feel like we only had bank holiday last weekend?!
Here's this months favourite's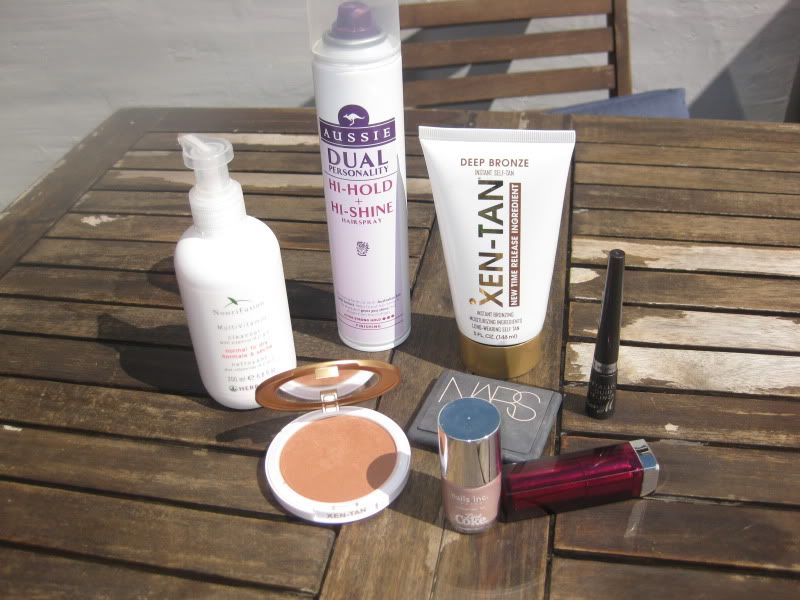 NouriFusion Multivitamin Cleanser - I won this in Sophie's
http://makeupwonderland.blogspot.com/
giveaway with the toner and moisteriser. I really like the whole range but the cleanser is fab because its the first cleanser to not break me out! So I'm really impressed.
Aussie Hi-Hold+ Hi-Shine spray - Does what it says on the tin! And it smells lovely.
Xen Tan Deep Bronze and Bronzer - Apparently its nearly summer (or is it already summer?) with us not getting more than a few days of sunshine I need this stuff! See my review
http://all-that-glitters-and-sparkles.blogspot.com/2010/05/xen-tan-review.html
Barry M Metallic liquid liner - I've had this since October but I really love it, I have been wearing winged liner a lot recently and this makes it so easy! I usually go over it with my Urban Decay 24/7 Zero liner to make it darker.
Nars Orgasm blush - So pretty for summer! That's all I'll say because I know how many posts you can read on it. But one thing I'll say is I hate how dirty Nars packaging gets.
Nails Inc Diet Coke polish in London - I know there have been a million posts about this so I'll just say I really love it and I'll put my swatch at the bottom!
Maybelline ColorSensational Ambre Rose - I must've forgotten about this but I have found my love for it again.