So I've sort of made a pact not to buy any make up for a while and buy some new clothes and then I have to save up for Col's anniversary present! So its likely to be end of september when I actually buy anything new :( Booo I will just have to try and do lots of FOTD's until then. So todays (why I look so gormless on pictures I don't know! )

Face -
Rimmel Lasting Finish
MAC MSF in Medium plus
Urban Decay blusher Quickie.

Eyes -
Using the Sleek Curious pallette
the white pearlescent e/s and the very light blue on the outer edge and the brighter blue on the bottom lash line.
Benefit Bad Gal Lash and Diorshow Blackout Mascara
Barry M white liner on the water line but because of the blue on the lashline it ended up mixing!
I will explain the mascara - I love Bad Gal lash but it is just too thin and doesn't thicken my lashes, but it does make them so long. So I decided to try Diorshow Blackout over it and it makes it so much better. Obviously using 2 mascara's isn't ideal but I am waiting for the dior to run out and then I am going to try EXCEPTIONNEL DE CHANEL VOLUMNISING MASCARA.
And here is Saturdays FOTN (face of the night haha) we just had col's family round for a BBQ but I like to make an effort!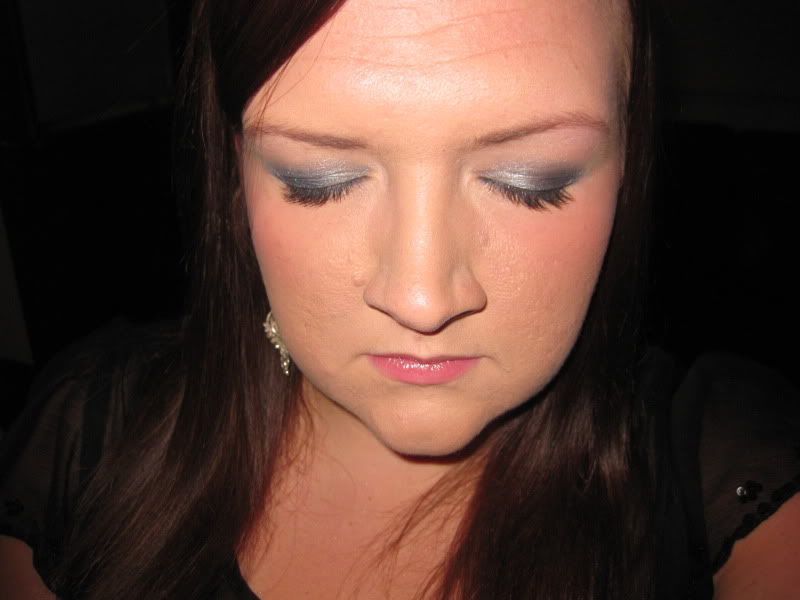 Face - Diorskin Forever in 010 Ivory
MAC MSF medium plus
Max Factor bronzer
Urban Decay blusher quickie
Eyes
MAC Pigment in Platinum on inner corner.
MAC Pigment Blue Storm outer edge.
MAC Kohl in Ebony
Bad Gal Lash and Diorshow Blackout
Lips
Benefit Her Glossiness "Who are you wearing"